| | | |
| --- | --- | --- |
| This is ALIEN X, the fastest machine on the network. | | |
The heart of the machine is an INTEL D865PERL motherboard sporting a blindingly fast PENTIUM 4 @ 3.0 GHz featuring HYPER-THREADING TECHNOLOGY.
The D865PERL motherboard by INTEL
It's memory banks are double clocked in a Dual-Memory-Channel configuration and use two 512 MB Double Data Rate memory banks, thus enabling the maximum 800MHz Front Side Bus memory transfer speed.
The PE865 Chip Set exhibits high-bandwidth interfaces,enabling the use of eight on-board USB 2 ports, two FIREWIRE ports, an 8X AGP Accelerated Graphics Port , on-board 10/100 ETHERNET port, and for creature comfort: built-in Dolby Digital 5.1 Surround Sound with S/PDIF optical and digital output.
---
Maximum data transfer speed to the main mass storage devices is obtained by using two MAXTOR 80GB DiamondMax Plus9 SATA hard drives arranged and formatted in a RAID 0 configuration.
Two hard drives in a RAID o set-up:
---
Two IOMagic 52 X 24 X52 CD-RW drives and an I/O Mega DVD burner implement the optical mass storage devices. edia consists of
The IOMagicCDRW drive: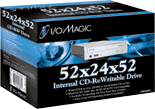 The I/O MEGA DVD burner: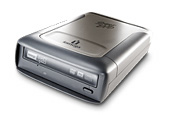 ---
The case is a Super X-Alien by Aspire, with a 500 Watt Super UV-Reactive power supply.
The X-Alien case: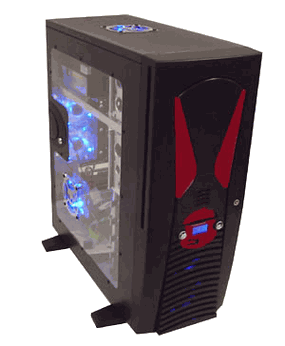 The Power Supply:
See more Extreme PC Cases at Xoxide.com
---