The CMM - 1530 is a 5 WATT power amp designed for the 1.85 - 1.9 GHz celluar phone band. Through a slight re-tuning of the output of the test circiut board, I was able to test this device at 2.25 GHz.

__________________________________
CLICK HERE TO VIEW THE SPECS IN A PDF FORMAT
__________________________________
Below is the fixture we used to test the device. The device is placed on the circuit board and clamped down. The clamp ensures good RF and thermal contact. There is a heat sink mounted under the circuit board. Thermal vias pull heat from the device, through the circuit board, to the heat sink.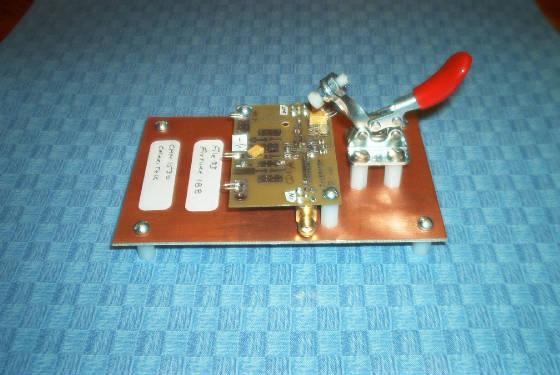 Here's a close up of the business end. The device sits between the small cap-head screws.
Note the stripline structure of the circuit board. We operated this device at 2.25GHz while delivering the full 5 Watts of power with a CDMA modulated signal.
After the devices were burned-in for 1 week while biased on, with no RF applied, they were retested.